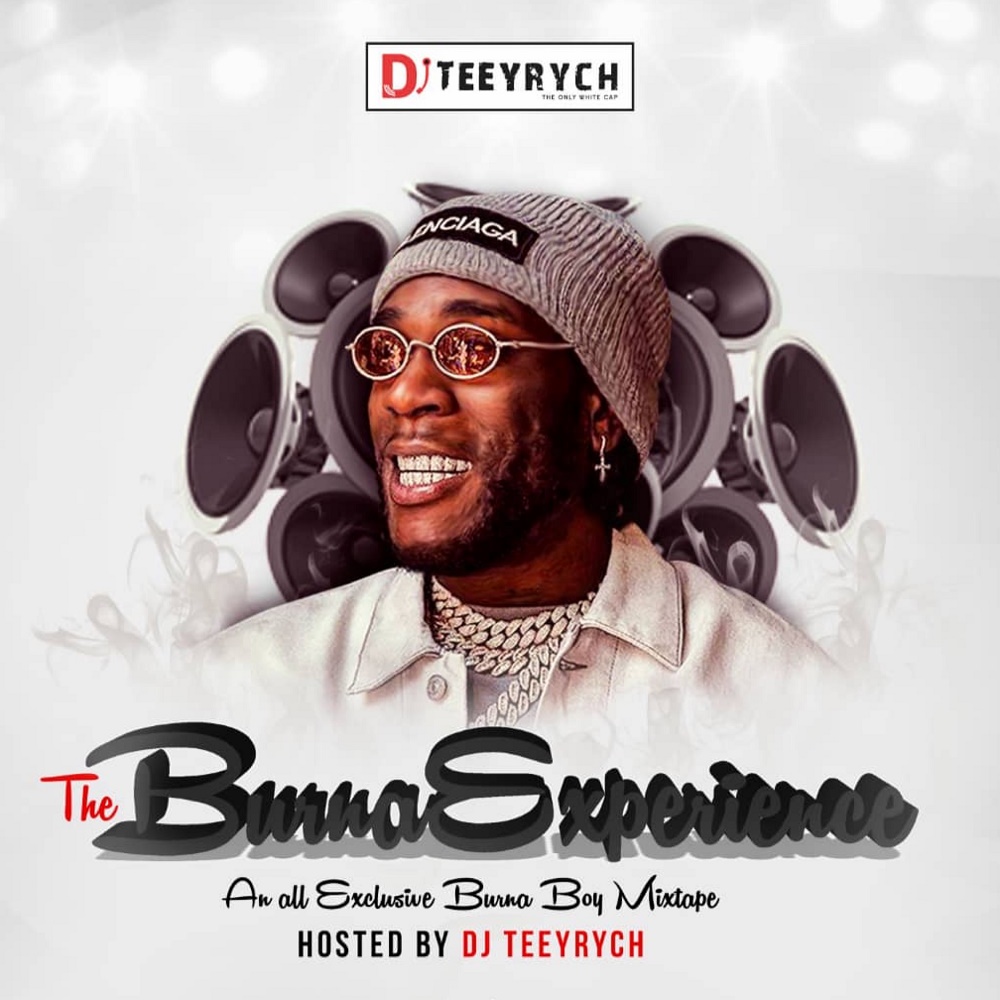 Nigerian Disc Jockey, DJ Teeyrych has released a new hot mixtape titled, "The Burna Experience (Burna Boy Mixtape)."
The Burna Experience is a mix of top songs from Nigeria's rave of the moment and biggest artiste, Damini Ogulu AKA The African giant – Burna Boy, well mixed by super talented Nigerian disc jockey DJ Teeyrych. This mix takes on all time Burna Boy jamz.
DJ Teeyrych is a Nigerian born and bred disc jockey who has built (By Experience) his career pursuit to stand out in the good ambassadorship of the entertainment industry.
See track list below:
TRACK LIST
1.     Blak Ryno Skit
2.     African Giant – Burna Boy
3.     Like To Party – Burna Boy
4.     Rockstar – Burna Boy
5.     Dangote – Burna Boy
6.     Fa So La Ti Do – Burna Boy
7.     Sekkle Down – Burna Boy
8.     Ja Ara E –  Burna Boy
9.     Gbona – Burna Boy
10.   Amorawa – Wande Coal Feat. Burna Boy
11.   Where I'm From – Burna Boy
12.  Giddem – Burna Boy
13.  Gum Body – Burna Boy
14.  Realest – Burna Boy
15.  Wetin Man Go Do – Burna Boy
16.  Wombolombo Something – Burna Boy
17.  Run My Race – Burna Boy
18.  Soke – Burna Boy
19.  Don Gorgon – Burna Boy
20.  Gimme Dat – Burna Boy
21.  De Ja Vu – Burna Boy
22.  Pull Up – Burna Boy
23.  Pree Me – Burna Boy
24.  Another Story – Burna Boy
25.  Ye – Burna Boy
26.  Hallelujah – Burna Boy
27.  Heaven – Burna Boy Feat. Lilly Allen
28.  Chilling Chillin' – Burna Boy & AI
29.  Collateral Damage – Burna Boy
30.  On The Low – Burna Boy
31.  Yawa Dey – Burna Boy
32.  Check & Balance – Burna Boy
33.  Anybody – Burna Boy
34.  Rock Your Body – Burna Boy
35.  Gba – Burna Boy
36.  Chase – Burna Boy
37.  Location – Dave Feat. Burna Boy
38.  Destiny – Burna Boy
39.  Spiritual – Burna Boy
40.  Tonight – Burna Boy
41.  Killin Dem – Burna Boy Feat. Zlatan
42.  Rizzla – Burna Boy
43.  Gba Gbe E – DJ Spinall Feat. Burna Boy
44.  Celebrate – Burna Boy
45.  Trumpet  – Burna Boy Feat. Davido
46.  Streets Of Africa – Burna Boy
47.  Special Someone – Sarkodie Ft. BurnaBoy & AKA
48.  Turn Up – Leriq Feat. Burna Boy And Phyno
49.  Touch Your Toes – Burna Boy
50.  Doc Shebeleza – Cassper Nyovest Feat, Burna Boy & MI Abaga
51.  Won Da Mo – Burna Boy feat. DBanj
52.  Smoke Some Weed – Burnaboy Feat. Onos
Listen and share your thoughts below: