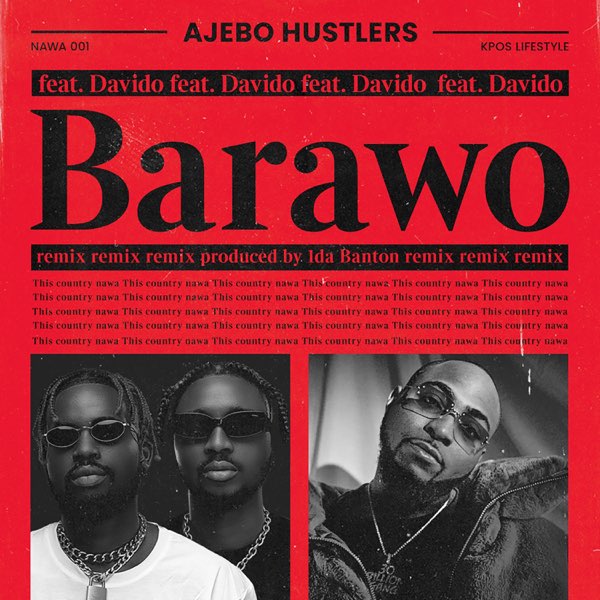 In the face of the current situations and protests in Nigeria, Afro-Pop duo, Ajebo Hustlers unlocks the remix to their single titled "Barawo".
Ajebo Hustlers links up with Nigerian superstar, Davido to deliver a massive record which seem to be one of the basic challenge facing humanity in Nigeria.
Furthermore, one captivating line of the song, 'Politicians dey loot us! Olopa (Police) dey shoot us! This country na wa,' explains part of the reasons for the mass protest against SARS (Special Anti-Robbery Squad) at the moment.
The song which emphasis on the rising cases of jungle justice and justice system in Nigeria was produced by 1da Banton. STG takes credit for mixing and mastering the joint.
Quotable Lyrics:
Dem been para o
Angry mob dem killy barawo
Back in Aba
Burning Dead body
Dem do am like nama o
Dem konk him ogor o
Wipe am 2 by 2 him japa o
Fall for coal tar o
Olokpa don show
Everybody don kawa o
Call him mama
Olokpa don show
Everybody don japa o
This country na wa (yo lo lo lo lo)
This country na wa (ye le le le le le le)
This country na wa (yo lo lo lo lo)
This country na wa (ye le le le le le le)
Listen to "Ajebo Hustlers Barawo Remix" and share with friends:
Ajebo Hustlers ft Davido Barawo Remix MP3 DOWNLOAD
Also check out more songs from Ajebo Hustlers on NaijaVibes: