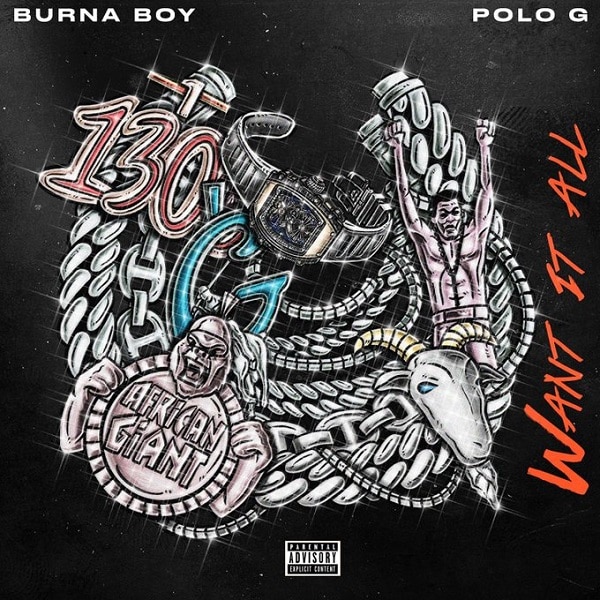 Multiple award-winning singer, Burna Boy has released a brand new single titled "Want It All".
Burna Boy links up with American rapper, Polo G on the record. Burna Boy talks about his pieces of jewellery, fashion from Virgil Abloh, GRAMMY and others.
The song "Want It All" arrives after Burna Boy informed his fans that his album release has been postponed till further notice. Produced by A-list talents, Smoko Ono and Sean Silverman with the accompanying arresting photostory visual directed by Adrian Yu and shot on location in Los Angeles, USA, 'Want It All' is a refreshingly different dimension to the Afrofusion genre, with Polo G's verse being the icing on an already perfectly-baked cake. Burna Boy has surely stolen our hearts and taken us to the suburbs with this tune.
Over the past few weeks, we heard "Question" from Burna Boy and Don Jazzy with 'Kilometre' that served as his debut for the year.
 On this collaboration, Burna Boy says, "I've been watching him for some time, and I just knew this had to get done, but it had to get done in the perfect way where the whole world gets to feel the reality of both of us."  
Quotable Lyrics;
I remember when they said they don't believe in me no more
I was sleeping on the ground, on the cold floor
Whole time I was grinding, I've been tryin' to achieve
Working night and day, you know my people no dey sleep
I got every Louis V collection from Virgil
And my life a fashion show, no rehearsal
Dior from Kim Jones, Bottega from Daniel
Hundred K my ring so I'm not shaking no hands though
Stream 'Burna Boy Want It All' below;
Check out more songs from Burna Boy on NaijaVibes;