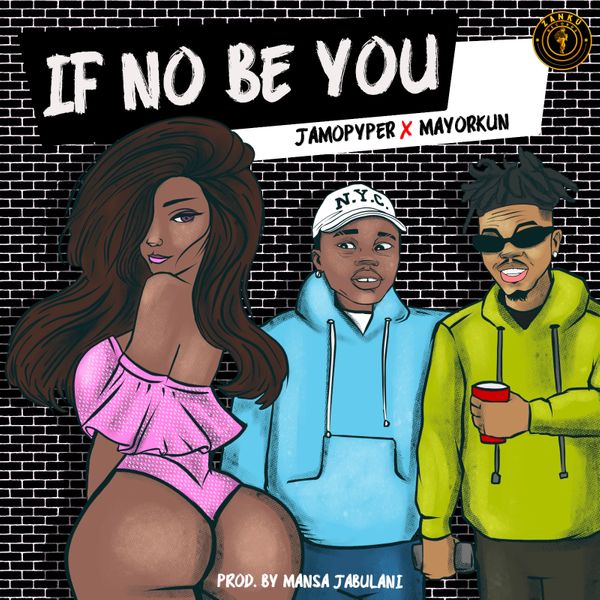 Zanku Records recording artiste, JamoPyper has begun his music journey with a new record dubbed "If No Be You".
Apparently, JamoPyper's debut record for the year, 'If No Be You' features Davido Music Worldwide Afro-Pop star, Mayorkun.
The song was produced by Mansa Jabulani. It will be part of his forthcoming project under the Zlatan led imprint.
Listen to "Jamopyper If No Be You" and share your thoughts below:
If No Be You Lyrics by JAMOPYPER
If no be you (if no be you baby)
Tan mo fe so story aiye mi fun
Wa wa wa
If no be you (if no be you baby)
Tan mo fe share body mi pelu
Feeling the vibe
Feeling the vibe you give me all night
Loving the vibe loving the vibe that you give me all night
Feeling the vibe
Feeling the vibe you give me all night
Loving the vibe loving the vibe that you give me all night
Je ka soro koro
Omo to pon leji je ka soro koro
Idi gangan lo she mi woranworan
Oya ni kwini kwana kwana
O le mu mi kwini o le mu mi kwana
Oya baby pana
The things you do munu mi dun dada
Fit to spray you my Naira or dollar
Iwo gangan lo ma mo lara
Oya baby pana
The things you do munu mi dun dada
Fit to spray you my Naira or dollar
Iwo gangan lo ma mo lara
If no be you
Tan mo fe so story aiye mi fun
If no be you
Tan mo fe share body mi pelu
Know as e dey go
Feeling the vibe am loving the vibe do you all night
You they see me as e dey go
Feeling the vibe am feeling the vibe am feeling the vibe
Now as e dey go
Feeling the vibe am loving the vibe do you all night
You they see me as I dey
Feeling the vibe am feeling the vibe
To ba le la aledun owo ma tan eyan ma ku
Lambs ti poju sho Ayinmaku
Shora fun awon brother don't be shy
Ati awon brother keep your phone say Na only me they for you
So anytime they worry you them go hear word
Bebe won ti be be
Baba tani baba won
Shoko e ni shoko
Omo e no sofo
If no be you (if no be you baby)
Tan mo fe so story aiye mi fun
Wa wa wa
If no be you (if no be you baby)
Tan mo fe share body mi pelu
Feeling the vibe
Feeling the vibe you give me all night
Loving the vibe loving the vibe that you give me all night
Feeling the vibe
Feeling the vibe you give me all night
Loving the vibe loving the vibe that you give me all night
If no be you (if no be you baby)
Tan mo fe so story aiye mi fun
Wa wa wa
Feeling the vibe
Feeling the vibe you give me all night
Loving the vibe loving the vibe that you give me all night
Feeling the vibe
Feeling the vibe you give me all night
Loving the vibe loving the vibe that you give me all night
Buy on Apple Music