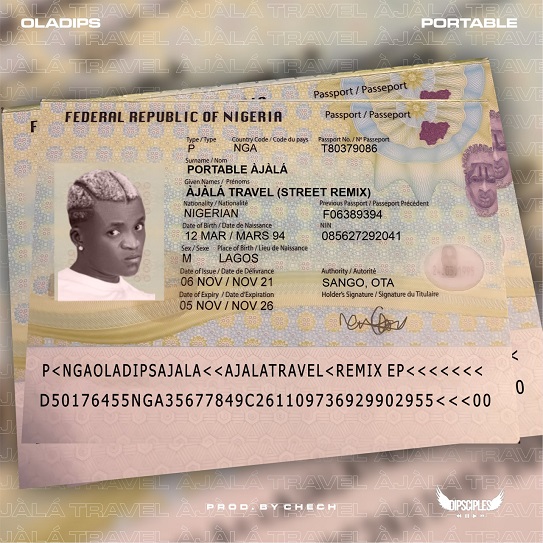 Hip-hop/rap artist, Oladips has delivered the street remix to his previously released song 'Àjàlá Travel.'
Oladips collaborates with street-crooner and vibes-killer, Portable aka the wahala musician, to deliver this version of his song.
Oladips seems to be on the Àjàlá Travel remix ep preparation, following its previous released remixed version with Zlatan.
However, sooner or later we expect to hear the disclosure of the upcoming project work, this anthem was produced by, Chech.
Quotable Lyrics;
Àjàlá Travel, (Ajala Travel)
Órè Ìlú Òyìnbó oh (Ore Ilu Oyinbo)
Buh Illiterate Ni Àjàlá oh oh (Illiterate Ni)
Àjàlá Òlè S'òyìnbó (Ahawn Ahawn)
Kòle S'òyìnbó (Ahawn Ahawnn)
Àjàlá Travel, (Ajala Travel)
Órè Ìlú Òyìnbó oh (Ore Ilu Oyinbo)
Buh Illiterate Ni Àjàlá oh (Illiterate Ni)
Àjàlá Òlè S'òyìnbó oo (Ahawn Ahawn)
Éle S'òyìnbó oo (Ahawn Ahawnn)
Listen below;
Check out more songs from Oladips on NaijaVibes;