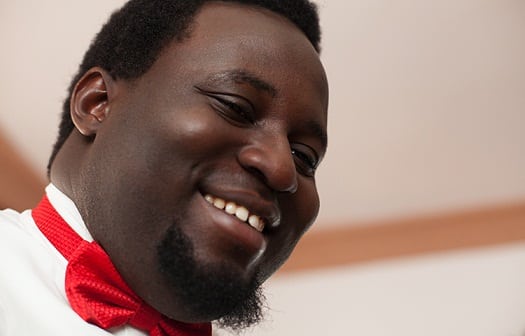 This week, The Big Interview had a talk with Dan D'Humorous. A household name in the southern part of Nigeria. Dan D'Humorous is one comedian whose intellect keeps me glued to his art. Regarded as one of the brightest comedians to come out of the South-South, Dan has his sights set on changing the world with his comedy. Besides being a renowned comedy act in his Nigeria,  he has also performed in other parts of the world, including Ghana and the UK.
In this interview, Dan D'Humorous takes us on a smooth ride into his art. We talk about his career, the Port Harcourt entertainment scene as well as how he uses comedy to affect his world positively.
The Big Interview: Welcome to The Big Interview Dan. Its nice having you here.
Dan D'Humorous: Thank you for having me.
The Big Interview: Tell us about yourself, your real name, your education and family.
Dan D'Humorous:  My real name is Nnwoka Daniel Chibuzor. Born and bred in Port Harcourt, schooled in Aladumo Educational Centre, Lao Russell Memorial Secondary School, Ompadec Science Centre and the University of Port Harcourt where I bagged a degree in Linguistics and Communications studies.
I'm the first of 7 children, from Elele town in Ikwerre LGA, Rivers State.
The Big Interview: You attended two secondary schools. Why did that happen? And did it affect you adversely?
Dan D'Humorous:  I did my junior secondary in Lao Russell and my parents moved me to Ompadec Science Centre which was a college cause at the time, I was going to be an engineer.
The Big Interview: What prompted your career change from Engineering to Linguistics and Communication studies?
Dan D'Humorous: Well, I never got to practice or study engineering after my secondary education cause that was when my destiny took a dramatic twist for the better. Hence, my studying of Linguistics and Communication studies.
The Big Interview: Your journey into comedy, how did it all begin?
Dan D'Humorous: I had always had love for entertainment. I saw the passion, flair and desire to entertain and be entertained. I found myself tilting towards that angle.
I tried out dancing, singing, disc jockeying as well as acting. Then comedy kicked in at it stuck… I began to nurture it and here were are. [Smiles]
The Big Interview: Was money ever a motivating factor in your choice to go into comedy?
Dan D'Humorous: [Smiles] Money was never and is still not a motivating factor for me going into comedy or going into every other venture. What is paramount to me is to fulfill [my] destiny and purpose, as well as [to] add value to lives and the society. When that is achieved, monetary gains comes naturally.
The Big Interview: Who is your role model?
Dan D'Humorous: I have several role models. First is my father Barrister John I. Nnwoka, Archbishop Benson Idahosa, Bishop David Oyedepo, Donald Trump, Alan Sugar, Julius Agwu, Chris Rock, Eddie Griffin, Richard Branson, Katt Williams and Mike Ogolo.
The Big Interview: So tell me, how do you make your jokes? Do you write them or you just go on stage and start talking?
Dan D'Humorous: First, I see, observe, hear or watch something… Whatever it is, as long as it hits my funny bone and inspires me to  create material from it. Then I jot it down that moment and later structure it properly.
Of course there is also times when I have to improvise or act spontaneously. Which is what we call freestyle. So 80% of my material is written. That's why they are organized.
The Big Interview: You organize a yearly show; 'The One Man Show'. Tell us about it. What was the idea behind it? And what should your fans be expecting this year?
Dan D'Humorous: Every year I do an annual show. But its actually described as a "Special"… They come with different themes every other year. But in 2012 and 2013, we tried out "The One Man Show" phenomenon.  The idea was to give the something different from the usual, and also to express myself and my art very well. It was an opportunity for my audience  to come see me in a manner They've not seen and may not see outside those walls.