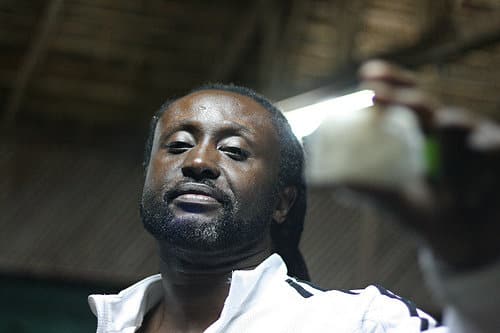 Reggie Rockstone has joined the growing list of entertainers enraged by the treatment of African artists by the BET Awards.
According to Ghanaweb, the hiplife patriarch wanted 2015 BET Best International Act – Africa awards nominee Sarkodie and winnerStonebwoy to snub the ceremony.
The Ghanaian website published, Rockstone said: "When the nominees boycott the ceremony, they would get bigger publicity than how they are treated now. A lot of African-Americans are not aware what is going on because a lot of the African-Americans are Pan-African. If they get to know this is how the Africans are treated, you will see the kind of support we will get. Nigerians will definitely support us too, because they don't need award for anything, they are already rich.
"If we had done that (boycotting the ceremony), it would have empowered us and it would have had more publicity. What I'm trying to say is, BET over the years has not shown respect in every single way. Do you know what BET stands for? It stands for Black Entertainment.
"How can Justin Bieber, a pure white and other whites who use the 'niga niga' words be awarded on stage and the Africans are awarded backstage? We are kings and queens. I'm so happy somebody stood up to speak up. If you live on your knees, you will never get anything to stand for", the Ghanaian native added. 
In the last couple of weeks, Fuse ODG, Wizkid and Yemi Alade have taken to social media to express their disappointment with the American cable network.  All three artists were nominated at this year's awards.
The entertainer suggested if all African nominees and awards came together to avoid the event, the organizers would pay more attention to foreign talent and treat them better.
He said: "I'm Pan-African to the bone, and I've always said, if we boycott them, they will change. If we had boycotted, we would have had the support of the Nigerians; immediately Fuse ODG said it, Wizkid threw his support behind him and Yemi Alade as well. We would have had the biggest publicity if we had boycotted it.
"Even when they perform, those who sit at the main event don't witness it, although it is big award, it is fulfilling that we have won but we have to think for the future kids and the ones who are coming. You can't continuously disrespect our acts", the 'Chukku chakka' singer said.
Meanwhile, BET International director, Lilian N. Blankson has disagrees that there has been any ill treatment of African artists.
Credit: GhanaWeb and Pulse
[follow_me]