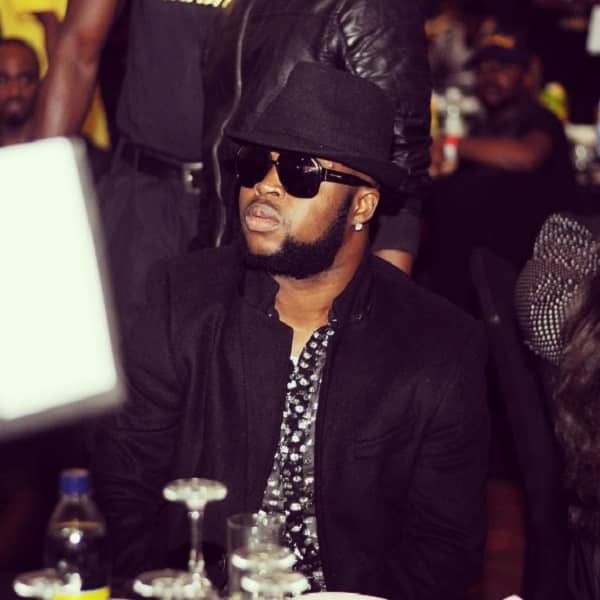 CEO, Emperor Geezy, addresses situation with an official statement regarding the labels policy.
Official Statement Reads;
"I HAVE LISTENED TO, READ AND WATCHED VARIOUS ON-AIR PERSONALITIES, ENTERTAINMENT JOURNALISTS AND THE ODD INDUSTRY PROFESSIONAL VOICE THEIR CONCERNS ON THE "REFUSAL" OF G-WORLDWIDETO ALLOW ARTISTES ON ITS ROSTER COLLABORATE WITH, OR FEATURE OTHER ARTISTES OUTSIDE THE FOLD ON THEIR MUSIC. THIS HAS BEEN WHISPERED, SAID TO MY FACE AND "AUTHORITATIVELY REVEALED" MANY TIMES THAT I FEEL IT IS IMPORTANT THAT I ADDRESS THE ISSUE ONCE AND FOR ALL.
FIRST, I MUST SAY THAT IT IS LAUDABLE OF OUR FANS AND CRITICS TO VOICE THEIR OPINIONS WHERE THEY FEEL WE HAVE AN ADVANTAGE TO EXPLORE BUT ARE NOT LEVERAGING. FOR THIS, I MUST SAY A HEARTFELT THANKS TO YOU.
NOW TO THE MATTER AT END; IT IS A MOOT POINT TO SAY THAT THE NIGERIAN MUSIC INDUSTRY HAS GROWN TO A POINT WHERE OUR ARTISTS ARE GAINING INTERNATIONAL ACCEPTANCE AND RECOGNITION. SO FAR, A LOT OF HARD WORK HAS GONE INTO THIS PROCESS, AND I PERSONALLY BELIEVE THAT WITH MORE EFFORT, NIGERIAN MUSIC IS POISED TO BECOME A MAJOR MUSIC "PRODUCT" GLOBALLY.
I GREW UP LISTENING TO MICHAEL JACKSON, FELA, OLIVER DE COQUE, OSITA OSADEBE, KING SUNNY ADE AND SO MANY OTHERS, AND WHEN I LOOK AT HOW MUSIC WAS CREATED AND MARKETED THEN, I SEE THAT THESE MEN, BEYOND BEING SUCH AMAZING CREATIVES, PUT A LOT OF EFFORT INTO CREATING UNIQUE IDENTITIES THAT CREATED A CERTAIN MYSTIQUE ABOUT THEM; HELPING TO DRIVE INCREASED FOLLOWERSHIP.
TODAY WHAT IT REQUIRES TO BREAK AN ARTISTE INTO THE MARKET AND POSSIBLY ACHIEVE LIMELIGHT IS HUGE, AND AS MODERN REALITIES HAVE COME TO SHOW US: MONEY RULES THE DAY. THIS OF COURSE MEANS THAT THERE IS A GROWING NEED FOR ANY SERIOUS PLAYER IN THE MUSIC INDUSTRY TO LOOK FOR INNOVATIVE WAYS TO SELL THEIR ART. MY OWN EXPERIENCE HAS SHOWN THAT MONEY ALONE CANNOT SUFFICE; RATHER WHAT IS REQUIRED IS A MIX OF TALENT, HARD WORK, CONSIDERABLE RESOURCES AND MOST IMPORTANTLY THE ABILITY TO THINK AND EXECUTE RADICAL STRATEGIES TO RETAIN A HOLD IN THE MARKET. IT IS ON THIS PRINCIPLE THAT I HAVE BUILT G-WORLDWIDE, AND IT IS ON THIS THAT WE AS AN ENTERTAINMENT COMPANY STAND.
WE WILL TAKE NO CREDIT FOR WHAT THE MUSIC INDUSTRY HAS BECOME TODAY, OUR ONLY FOCUS IS ON WORKING HARD TO REWARD THE TRUST AND SUPPORT OUR LOYAL FANS HAVE BESTOWED ON US. ON GIVING OUT VALUE. WE BELIEVE AS A COMPANY THAT OUR ARTISTS CAN WORK HARD ENOUGH TO PUT THEMSELVES IN THE SPOTLIGHT WITHOUT HAVING TO LEVERAGE ON FEATURES AND COLLABORATIONS. WE UNDERSTAND THAT THIS IS A RISKY MOVE BUT REMAIN CONVINCED THAT IF THIS CAN BE ACHIEVED, WE WILL BE ABLE TO TAKE CREDIT FOR HAVING SET THE PACE IN THE NIGERIAN MUSIC INDUSTRY. GRANTED THAT COLLABORATIONS IN THE INDUSTRY BRING COLOUR AND VARIETY TO THE END PRODUCT, BUT OUR APPROACH AT THIS TIME IS TO GROW STRONGER AND RICHER IN VALUE AS A UNIT.
AS AN ENTREPRENEUR I KNOW THE RISKS INVOLVED IN INVESTING IN THE MUSIC BUSINESS AND WILL DO ALL I CAN TO MINIMIZE THESE RISKS. FOR THOSE WHO ASSUME THAT OUR STRUCTURE IS NOT GOOD ENOUGH, I WOULD HUMBLY SUGGEST THAT YOU INVEST IN THE CAREER OF ONE OF THE COUNTLESS YOUNG TALENTS OUT THERE AND ANCHOR YOUR BUSINESS ON PRINCIPLES YOU BELIEVE IN AS WE HAVE DONE AND LET TIME AND FATE DECIDE WHOSE APPROACH WILL STAND THE TEST OF TIME. AS FOR US, WE INTEND TO CONCENTRATE OUR ENERGY ON CREATING AND RELEASING GREAT MUSIC SUCH AS "SOFA" BY KISS DANIEL AND THE "BELIEVE" ALBUM RECENTLY RELEASED BY SUGARBOY FOR OUR FANS THE WORLD OVER. THE FEATURES AND COLLABORATIONS ARE WONDERFUL OPPORTUNITIES WHICH WILL COME AT THE RIGHT TIME."
FESTUS EHIMARE (EMPEROR GEEZY)
FOR: G-WORLDWIDE ENTERTAINMENT